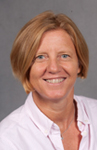 The Silberman School of Social Work's Professor Sarah-Jane (S.J.) Dodd has been awarded a cooperative agreement grant from the National Cancer Institute (NCI), a division of the National Institutes of Health (NIH), as part of a major NCI-funded collaboration announced this month between Hunter College and Temple University to reduce cancer-related health disparities in the New York-Philadelphia corridor.
Dr. Dodd's sub-award, a U-54 grant scheduled to run for five years, will fund her role in research planning and process/outcome evaluation vital to the success of the $13.5 million project. Working with Hunter colleagues across numerous schools and departments, as well as collaborators from Temple in Philadelphia, Dr. Dodd's contributions will help address the significant barriers to cancer diagnosis, treatment, and service access that disproportionately affect minority communities in the northeastern United States.
Dr. Dodd and the Silberman School of Social Work at Hunter College are uniquely well-positioned to advance the aims of this groundbreaking partnership, described by Principal Investigator Dr. Olorunseun Ogunwobi as "identifying research-based solutions to overcome disparities, improving quality of life and health outcomes, and building a racially diverse pipeline of cancer researchers and clinical providers." The oldest and largest public school of social work in New York, Silberman is committed to social work excellence and evidence-based research in the interest of the public and the pursuit of social justice.