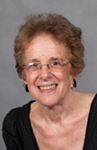 The Silberman School of Social Work at Hunter College is pleased to announce that Dr. Mimi Abramovitz, the Bertha Capen Reynolds Professor of Social Policy, will be honored by the Council on Social Work Education (CSWE) as the 2018 recipient of its prestigious Significant Lifetime Achievement in Social Work Education Award.
This award recognizes a social work educator's exemplary achievements in research, scholarship, pedagogy, curriculum development, and organizational leadership over their entire career. In 2004, Dr. Abramovitz received CSWE's Award for Distinguished Recent Contributions to Social Work Education.
The 2018 award will be presented at the CSWE Annual Program Meeting in Orlando, Florida, November 8-11.
The entire Silberman and Hunter communities warmly congratulate Dr. Abramovitz on this outstanding and well-deserved honor.