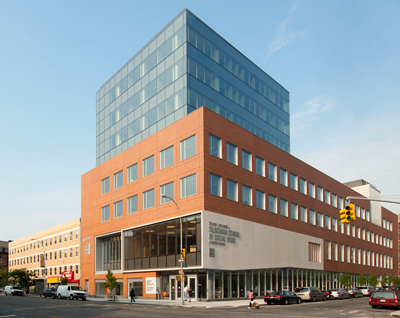 We have just concluded an outstanding academic year at the Silberman School of Social Work! I am very grateful for – and inspired by – all of your dedicated work, talent, and commitment to our School community throughout the year. The past month has been particularly exciting, with many notable events and achievements to celebrate. I am so very pleased to share some recent highlights with you all: 
On May 30, Silberman proudly held its Recognition Ceremony for the Class of Spring 2017 at Hunter's Assembly Hall. A record-setting 443 graduates took part in the ceremony. This year's extraordinary graduating class represented all MSW degree pathways, Practice Methods, and Field of Practice Specializations. Fifteen students received awards for excellence in academics, writing, and field work. We were especially honored to welcome distinguished keynote speaker Dr. Jeremy Kohomban, President and CEO of The Children's Village and President of Harlem Dowling; and Alumni Trailblazer Award recipient Carrie Davis, an inspiring advocate for LGBTQ health and mental health. The Social Work graduates were also recognized during the 215th Hunter College Commencement later that day at Radio City Music Hall.
My very special thanks go to Rob Lorey, our Director of Student Services, as well as to Leslie Casanova and Lina Briscese and all those who tirelessly contributed to make our Recognition Ceremony such a joyful success. I would also like to thank the Silberman faculty and staff, for so jubilantly attending the Recognition Ceremony and the Hunter Commencement as well. It is truly a privilege to work with such wonderfully committed and dedicated colleagues.
On May 18, Silberman hosted the Fifth Annual Maria Rosenbloom Memorial Lecture, BESA: A Code of Honor – Albanian Muslims who Rescued Jews During the Holocaust. The stirring evening brought together diverse representatives from Jewish and Albanian Muslim communities, to discuss an extraordinary story of interfaith collaboration and resistance during the Holocaust. Accompanying photographs by Norman Gershmann were exhibited in the Silberman lobby. This year's Rosenbloom Memorial Lecture was an inspiring success, thanks to the commitment and leadership of Professor Harriet Goodman and the Advisory Committee – Professor Emerita Rose Starr; Professors Gary Mallon, Ana Paulino, and Paul Kurzman; Gloria Rich; and Dr. Alex Gitterman, for whose generosity we are extremely grateful.
On May 19, our Belle and George Strell Executive Leadership Fellows Program celebrated its 2016-2017 Fellows – the third graduating cohort – with a recognition ceremony at the School. Each Fellow was honored, along with the Coaches who worked one-on-one with them and the Speakers who shared valuable leadership expertise. The year-long Strell Fellows Program gives experienced social service managers the added skills they need to obtain senior, executive-level positions in human social service organizations. Our special thanks go to Robin Avram, the Executive Director of the Strell Fellows Program, and Professor Jim Mandiberg for his consistent support and service to the program.
On May 5, the School hosted the Third Annual Silberman Aging Conference, Aging in Uncertain Times: The Struggles and Strengths of Aging in NYC. More than 150 people attended this full-day conference, which featured over twenty presentations on the current landscape and innovative future of aging services and policies in New York City, representing a diverse range of local, community-based organizations. The conference was a great success thanks to the dedicated efforts of Dr. Nancy Giunta, Rebekah Glushefski, MSW intern Stephanie Ruiz, and the Conference Planning Committee, as well as all Silberman Aging faculty and staff.
On May 17, the Policy Track, within our Community Organizing, Planning and Development (COP&D) Method, held a certificate celebration to recognize its outstanding 2017 graduates. This wonderful program is led by Professor Mimi Abramowitz. We are so very proud of these graduates.
Wonderful news to share: Assistant Professor Colleen Cary Katz and her husband, Joshua, welcomed their beautiful baby girl, Anna Cary Katz, on April 26!
Finally, a very special congratulations to Rob Lorey – our newly appointed Director of Student Services. During this past academic year, Rob has been an extraordinary Acting Director of Student Services. We look forward to working with Rob in his new role!
I wish you all a wonderful summer!
Kind regards,
Mary M. Cavanaugh
Acting Dean