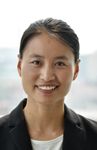 Zhao, Rong | MSW | PhD
Assistant Professor
Phone: (212) 396-7547
Office:
Email: rz715@hunter.cuny.edu

Room: 422
Areas of Expertise:
Workforce and Employee Compensation of Human Services Organizations
Gender and Racial Dynamics in the Nonprofit Sector
Diversity, Inclusion, and Equity in Nonprofit Human Services Organizations
Financial Sustainability of Human Services Organizations
Government and Nonprofit Collaboration in Service Delivery
Gender and Volunteerism
Education:
PhD, Columbia University
MSW, Columbia University
MA in Nonprofit Management, Beijing Normal University, China
Download CV (PDF)
Welch, R., Zhao, R. (accepted). An epidemic of virtue: a review of social work's complicity in "prostitution" interventions, Affilia: Journal of Women and Social Work.
Zhao, R., Lilly, A. (2021). The role of state mobilization in China's volunteerism, Nonprofit and Voluntary Sector Quarterly.
Zhu, Z., Zhao, R., & Tao, C. (2021). Chinese NPOs in service contracting at the community level: challenges and strategies. VOLUNTAS: International Journal of Voluntary and Nonprofit Organizations, 1-15. Available at: http://link.springer.com/article/10.1007/s11266-021-00332-y
Zhao, R. (2020). Are nonprofits more equitable than for-profits? An estimate of the gender pay gap in the US human services field. Human Service Organizations: Management, Leadership & Governance, 44(4), 343-361.
Wu, Z.S., Zhao, R., Liu, F.Q., & Zhang, X.L. (2018). The impact of social capital on volunteering and giving: evidence from urban China. Nonprofit and Voluntary Sector Quarterly, 47 (6) 1201-1222
Dr. Zhao is currently conducting a qualitative study on employee compensation practices of NYC nonprofit child welfare agencies and their advocacy work in addressing the prevalent under-compensation issue of human services workers. With the research findings and implications, it is her hope to help address this pressing issue in the field.

In two other quantitative projects, Dr. Zhao is analyzing the racial pay gaps of social workers across nonprofit, for-profit, and government agencies in the Great NYC area; she is also examining the gendered pattern of volunteerism of Chinese urban citizens.