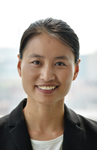 Zhao, Rong | MSW | PhD
Assistant Professor
Phone: (212) 396-7547
Office:
Email: rz715@hunter.cuny.edu

Room: 422
Areas of Expertise:
Workforce and Employee Compensation of Human Service Organizations
Gender Dynamics in the Nonprofit Sector
Financial Sustainability of Human Service Organizations
Government and Nonprofit Collaboration in Service Delivery
Gender and Volunteerism
Education:
PhD, Columbia University
MSW, Columbia University
MA in Nonprofit Management, Beijing Normal University, China
Download CV (PDF)
Wu, Z.S., Zhao, R., Liu, F.Q., & Zhang, X.L. (2018). The impact of social capital on volunteering and giving: evidence from urban China. Nonprofit and Voluntary Sector Quarterly (online first).

Zhao, R., Wu, Z.S., Tao, C.J. (2016). Understanding service contracting and its impact on NGO development in China, VOLUNTAS: International Journal of Voluntary and Nonprofit Organizations, 27 (5) 2229-2251.

Zhao, X.P, Zhao, R., and Lu, W.J. (2012). The collective action dilemma in constructing NGO associations: A case study of the China FA Grassroots Alliance (In Chinese), China Nonprofit Review, 9 (1), 223-234.

Zhao, R., Lu, W.J, Tao, C.J, Zhao, X.P. (2011). From governmental philanthropy to social philanthropy: The developmental path of Chinese civil society organizations in disaster relief (In Chinese). Beijing: Social Sciences Academic Press.

Zhao, R. (2009) The collective action of the Chinese society: Sichuan "5.12" Social Aid Service Center (In Chinese). In M. Wang (Ed.), Reports on the civil society action in the Wenchuan Earthquake- Chinese NGOs in emergency rescue (pp.138-149), Beijing: Social Sciences Academic Press.
Dr. Zhao is currently building and tailoring the work done in her dissertation, entitled Gender Pay Equity and Women's Pay Improvement Trajectory in the U.S. Nonprofit and For-Profit Sectors. Traditionally, researchers have examined gender pay disparity across all industries combined in the entire economy. This research project, however, focuses on 15 human service industries because nonprofit organizations are concentrated in those fields only.

Dr. Zhao is also working on two other research projects: 1. Partnering with Dr. Angela Bies, a Public Management professor at University of Maryland, to investigate how nonprofit executives manage employee compensation during the starvation cycle of funding; 2. In collaboration with Dr. Marcus Lam, Professor of Leadership Studies at University of San Diego, to compare how the political and institutional contexts of the U.S., Canada, Belgium, Germany, and China each impact the financial health of private foundations in those countries.