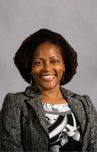 Stephens, Tricia | LCSW-R | PhD
Associate Professor
Phone: (212) 396-7560
Office: 423
Email: ts42@hunter.cuny.edu

Areas of Expertise:
The Effects of Historical and Contemporary Trauma on Mental Health Functioning for People of the African Diaspora
Child Welfare - The Intersection of Parental Trauma Exposure and Family Stability
Education:
MSW, New York University
PhD, New York University
Courses:
Human Behavior in the Social Environment III
Clinical Practice IV - Trauma
Practice Lab
Download CV (PDF)
Stephens, T., Parchment, T., Gopalan, G., Burton, G., Ortiz, A., Brantley, T. and McKay, M. (under review). Assessing the needs of recently unified families from foster care: A parent perspective.

Stephens, T., Owusu, N.A., Parchment, T. and McKay, M. M. (2015). Meeting the needs of children and families with communication and other developmental difficulties in Accra, Ghana – An assessment of the AwaaWaa2 community-based program. Global Social Welfare: Research, Policy and Practice; DOI: 10.1007/s40609-015-0033-1

Stephens, T., McGuire-Schwartz, M., Rotko, L., Fuss, A. and McKay, M. M. (2014). "A learning collaborative supporting the implementation of an evidence-informed program, the 4Rs and 2Ss, for children and families living with mild to moderate disruptive behavior disorders." Journal of Evidence-Based Social Work, 11(5), 511-523

Tosone, C., Nuttman-Schwartz, O. & Stephens, T. (2012). "Shared trauma: When the professional is personal." Clinical Social Work Journal, 40(2), 231-239.
Traumatic Experiences and Perceptions of Parenting Self-Efficacy.
Mixed-methods study of the types timing and severity of trauma exposure experienced by mothers with single and multigenerational child welfare involvement. Study completed at the New York University McSilver Institute for Poverty Policy and Research and several NYC community based organizations.

Family Reunification after Child Welfare - Understanding Families' Needs from a Parent Perspective.
Collaborative research project with the Child Welfare Organizing Project (CWOP) investigating the factors that facilitate family reunification post child welfare system involvement. A partnership with the New York University McSilver Institute for Poverty Policy and Research.