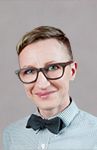 Shelton, Jama | MSW | PhD
Associate Professor
Phone: (212) 396-7548
Office: 449
Email: jshelton@hunter.cuny.edu

Areas of Expertise:
LGBTQ youth homelessness
Child welfare and juvenile justice
Inclusion, support, and affirmation of LGBTQ youth in youth-serving systems
Social policy (macro and micro levels)
Qualitative and arts-based research methods
Education:
Ph.D., The Graduate Center of the City University of New York (CUNY), Silberman School of Social Work at Hunter College
M.S.W., New York University, Silver School of Social Work
Courses:
Child Welfare: Children, Youth, and Families (platform course)
Download CV (PDF)
Shelton, J. (in press). Transgender youth homelessness: Understanding programmatic barriers through the lens of cisgenderism. Children and Youth Services Review.

Shelton, J. (under review). Finding a gender home: Gender identity assertion among unstably housed transgender and gender expansive youth. Social Service Review.

Shelton, J. & Winkelstein, J. (2014). Librarians and Social Workers: Working Together for LGBTQ Youth. Young Adult Library Services, Fall 2014, 20-13.

Shelton, J. (2013). There's no place like home? The experiences of unstably housed transgender and gender non-conforming youth. Doctoral Dissertation, CUNY Graduate Center.

Shelton, J., Sabatino, C., Winterkorn, G., Brigham, F. & Gay, H., (2011). Providing to one's own community: A panel discussion. The Journal of Gay and Lesbian Mental Health, 15(2), 211-217.
Dr. Shelton is currently working on the Homeless Youth Risk and Resilience Study (HYRRS), a multi-city study of risk and protective factors among youth experiencing homelessness; and a research study, "They Should Just Ask: Sexual Orientation, Gender Identity, and Pronouns Among Homeless Youth," which explores how, when, and what to ask regarding sexual orientation and gender identity. They are also co-editing a peer-reviewed book on LGBTQ2S youth homelessness in the U.S. and Canada, with Toronto-based researcher Alex Abramovich, in partnership with the Canadian Observatory on Homelessness.