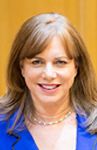 Lens, Vicki | MSW | JD | PhD
Associate Dean & Professor
Phone: (212) 396-7539
Office: 436
Email: vl531@hunter.cuny.edu

Areas of Expertise:
Socio-legal studies of street level and appellate courts
Therapeutic Jurisprudence in Family Courts
Poverty and social welfare policy
Qualitative research methods
Education:
Ph.D., Yeshiva University, Wurzweiler School of Social Work
J.D., New York Law School
M.S.W., State University of New York, Stony Brook, School of Social Welfare
Courses:
-Social Welfare Policy and Services
-Law and Social Work
-Qualitative Research (doctoral program)
Download CV (PDF)
Lens, V. (2021). Social Justice and the Supreme Court: Lessons from the Past.
Mitchell Hamline Law Journal of Public Policy & Practice
42 (1), 49- 90.
Henry, C. &
Lens, V.
(2021). Marginalizing mothers: Child maltreatment registries,
statutory schemes, and reduced opportunities for employment.
City University of New York Law Review, 21
(1), 1-34.
https://academicworks.cuny.edu/clr/vol24/iss1/3
Lens V. (2019). Judging the "other": The intersection of race, gender and class in
Family Court.
Family Court Review
57 (1), 72-87.
Lens, V. (2019). The Travel Ban cases: A Tale of Two Governments.
Boston University Public Interest Law Journal
29 (1), 67-109.
Lens, V. (2016). Poor Justice: How the Poor Fare in the Courts.
Oxford University Press.
Society for Social Work and Research 2017 Book Award. Honorable Mention.
A qualitative study funded by the Robin Hood Foundation on the economic impact of the pandemic on low-income New Yorkers

A qualitative study funded by the Robin Hood Foundation on the economic impact of the Child Tax Credit.

Family Court child welfare proceedings, judicial behavior, and racial bias in the court room

Analysis of recent Supreme Court and appellate decisions on the administrative state and social policy
Photo credit: Masao Katagami