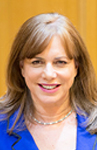 Lens, Vicki | MSW | JD | PhD
Interim Director of the MSW Program & Professor
Phone: (212) 396-7539
Office: 436
Email: vl531@hunter.cuny.edu

Areas of Expertise:
Socio-legal studies
Social justice and fairness in the courts
Lived experiences of race, class and gender in the legal system
Inequality and anti-oppression studies
Ethnographic and qualitative research methods
Education:
Ph.D., Yeshiva University, Wurzweiler School of Social Work
J.D., New York Law School
M.S.W., State University of New York, Stony Brook, School of Social Welfare
Courses:
-Social Welfare Policy and Services
-Community Organizing I
-Law and Social Work
-Qualitative Research (doctoral program)
Download CV (PDF)
Lens, V. (2015). Poor Justice: How the Poor Fare in the Courts. Oxford University Press.

Lens, V. (2015). Welfare Law in Wiley Handbook of Law & Society. Eds. A. Sarat and P. Ewick. Hoboken, N.J.: Wiley.

Lens, V. (2015). Against the grain: Therapeutic judging in a traditional Family Court. Law & Social Inquiry. DOI: 10.1111/lsi.12153

Lens, V. (2014). The Judiciary and Social Policy in Social Policy and Social Justice. Ed. M. Reisch. Thousand Oaks: Sage.

Lens, V. Engaging parents in Family Court: Lessons from an observational study of child protection cases. Journal of Social Work. [In Press]
Dr. Lens is currently working on an article which examines how gender disadvantages poor women in the civil justice system. It focuses on two forums – the welfare fair hearing system and Family Court –whose clientele are predominantly poor women. While the emphasis is primarily on gender, because of the intersectionality between race and gender, it also considers the former.

Dr. Lens is also working on an article, funded by the Robin Hood Foundation, which is based on qualitative interviews with 70 low-income families living in New York City. It examines why some people experiencing hardship do not seek help from private agencies, while others do.
Photo credit: Masao Katagami