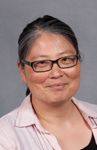 Lee, Rufina | MSW | PhD
Associate Professor
Phone: (212) 396-7540
Office: 437
Email: rufina.lee@hunter.cuny.edu

Areas of Expertise:
Development and implementation of EBPs in mental health settings including Coordinated Specialty Care for First Episode Psychosis and Critical
Education:
Post-doctoral Fellowship, Psychiatric Epidemiology Training Program, Columbia University Mailman School of Public Health
Ph.D., Columbia University School of Social Work
M.S.W., University of California Berkeley, School of Social Welfare
Courses Include:
Human Behavior in the Social Environment II, Adults and Older Adults
Mental Health Policy
Research
Evidence-based Practices for Adults with Serious Mental Health Conditions
Download CV (PDF)
OnTrackNY: Coordinated Specialty Care for Young People with
Recent Onset of Psychotic Symptoms
Funding: New York State Psychiatric Institute, Center for Practice Innovations at Columbia Psychiatry
Role: Principal, 2014 to 2021; subject to renewal in 2021

Evaluation of newStart's Alternatives to Incarceration Critical Time
Intervention Enhancement
Funding: Center for Alternative Sentencing and Employment
Services
Role: Principal, 2020-2022

Develop a payment decision-support tool for payers and providers
of early interventions for psychosis
Funding: Robert Wood Johnson Foundation's Systems for Action (S4A)
Role: Consultant (PI Yuhua Bao, Joan & Sanford I. Weill Medical
College of Cornell University), 2019-2021

Connections to Care with STRIVE and Union Settlement
Funding: Mayor's Fund to Advance New York City, Corporation for National and Community Service's Social Innovations Fund, Center for Economic Opportunity, and the Department of Health and Mental Hygiene
Role: Trainer, 2016-2017

Recovery After Initial Schizophrenia Episode Impact and Evaluation Study (RAISE-IES): Duration of Untreated Psychosis Study.
Funding: NIMH
Role: Co-investigator (PI Lisa Dixon, New York State Psychiatric Institute), 2014-2016
Bao, Y., Papp, M. A., Lee, R., Shern, D., & Dixon, L. B. (2021). Financing early psychosis intervention programs: Provider organization perspectives. Psychiatric Services, appi-ps.
Bao Y, Li Y, Jeng PJ, Scodes J, Papp MA, Humensky JL, Wall M, Lee R, Ancker JS, Pincus HA, Smith TE, Dixon LB. (2020). Design of a payment decision-support tool for Coordinated Specialty Care for early psychosis. Psychiatric Services: appips202000129. doi: 10.1176/appi.ps.202000129. Epub ahead of print. PMID: 33267653.
Lee R
, Scodes J, van der Ven E, Alves-Bradford JM, Mascayano F, Smith S, Dixon L. (2020). Sociodemographic, clinical and help-seeking characteristics of homeless young people with recent onset of psychosis enrolled in specialized early intervention services.
Early Intervention in Psychiatry
. doi: 10.1111/eip.13028. Epub ahead of print. PMID: 32875676.
Mascayano F, van der Ven E, Martinez-Ales G, Jones N, Basaraba C, Jones N,
Lee R
, Bello I, Nossel I, Smith S, Smith T, Wall M, Susser E, Dixon L. (2020). Predictors of early discharge from early intervention services (EIS) for psychosis in New York State.
Psychiatric Services,
71: 1151–1157.
Rolin S.A. Marino L.A., Pope L.G., Compton, M.T.,
Lee, R
., Rosenfeld, B., Rotter, M., Nossel, I., & Dixon, L. (2019)
Recent violence and legal involvement among young adults with early psychosis enrolled in Coordinated Specialty Care
.
Early Intervention in Psychiatry
, 13(4):832-840. doi: 10.1111/eip.12675.