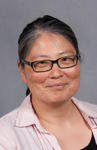 Lee, Rufina | MSW | PhD
Assistant Professor
Phone: (212) 396-7540
Office: 437
Email: rufina.lee@hunter.cuny.edu

Areas of Expertise:
Serious Mental Illness
Psychiatric Epidemiology
Education:
Post-doctoral Fellowship, Psychiatric Epidemiology Training Program, Columbia University Mailman School of Public Health
Ph.D., Columbia University School of Social Work
M.S.W., University of California Berkeley, School of Social Welfare
Courses Include:
Human Behavior in the Social Environment II, Adults and Older Adults
Mental Health Policy
Research
Evidence-based Practices for Adults with Serious Mental Health Conditions
Download CV (PDF)
Nguyen, D. & Lee, R. (2013). Nativity and level of need: Toward an integrative
perspective of Asian American mental health. Journal of Immigrant Minority Health,15(6):1129-32.

Nguyen, D. & Lee, R. (2012). Asian immigrants' mental health service use: An
application of the life course perspective. Asian American Journal of Psychology,
3(1):53-63.

Sinkewicz, M. & Lee, R. (2011). Prevalence, comorbidity and course of depression among black fathers in the US. Research on Social Work Practice 21(3):289-297.

Verma, N., Lee R., Su, C., Chan, C., & Muennig, P. (2010). The psychosocial health of Shan children in Northwest Thailand. Journal of Immigrant and Refugee Studies 8(4):445-449.

Henderson, C., Lee, R., Dragatsi, D., & Herman, D. (2009). From psychiatric
advanced directives to the Joint Crisis Plan. Psychiatric Services, 60:1390-1391.

Muennig, P., Haomiao, J., Lee, R., & Lubetkin, E. (2008). I think therefore I am:
Perceived ideal weight as a determinant of health. American Journal of Public Health, 98(3):501-6..

Lee, R. & Curran, L. (2003). Serving the "hard-to-serve ": The use of clinical knowledge in welfare reform. Journal of Sociology and Social Welfare, 30, 3, 59-79.
A Delphi study of Critical Time Intervention. Principal investigator, funded by the President's Fund for Faculty Advancement, Hunter College City University of New York

Healthy Transitions: Improving Life Trajectories for Youth with Early Psychosis. Co-investigator (PI Lisa Dixon); funded by SAMHSA.

Recovery After Initial Schizophrenia Episode Impact and Evaluation Study (RAISE-IES) Duration of Untreated Psychosis Study. Co-investigator (PI Lisa Dixon); funded by NIMH.

Adaptation, training, and consultation of Critical Time Intervention model for the New York City Supportive Transition and Recovery Team (NYC-START), an early intervention for psychosis initiative at the New York City Department of Health and Mental Hygiene (NYC-DOHMH). Principal; contract funded by the NYC-DOHMH.

Model development, training and consultation to OnTrackNY coordinated specialty care programs for individuals experiencing early psychosis. Principal; contract with the Center for Practice Innovations, New York State Psychiatric Institute, funded by the New York State Office of Mental Health.