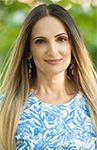 Lalayants, Marina | MPA | PhD
Professor
Phone: (212) 396-7550
Office: 451
Email: mlalayan@hunter.cuny.edu

Areas of Expertise:
Parent Advocacy/Peer Support in Child Welfare
Parent Engagement in Child Welfare
Multidisciplinary Practices in Child Protection
Child Welfare and Child Protection in Developing Countries
Education:
Ph.D., Graduate Center, City University of New York
M.P.A., University of Nebraska at Omaha
M.A., Yerevan State University
Courses:
Child Welfare Platform Course
Research Methods I & II
International Social Welfare Policies & Services
Social Work Administration
Professional Seminar
Download CV (PDF)
Lalayants, M. (forthcoming). Parent engagement in child safety conferences: The role of parent representatives.
Child Welfare.
Lalayants, M. (2013). Differential program evaluation model in child protection.
Child Welfare
, 91(4), 9-40.
Lalayants, M., Epstein, I., & Adamy, D. (2011).
Multidisciplinary consultation in child protection: A clinical data-mining evaluation. International Journal of Social Welfare
, 20(2), 156-166.
Tripodi, T., & Lalayants, M. (2008).
Factors Associated With Reverse-Migration Separation Among a Cohort of Low-Income Chinese Immigrant Families in New York City
.
NY: Oxford University Press.
Lalayants, M. (2008).
Bridging disciplines in child protection: Guidelines for successful collaboration. International Journal of Interdisciplinary Social Sciences
, 2(5), 147-155.