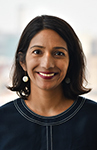 Gopalan, Geetha | LCSW | PhD
Interim Associate Dean for Academic and Faculty Affairs & Associate Professor
Phone: (212) 396-7755
Office:
Email: ggopalan@hunter.cuny.edu

Areas of Expertise:
Child Welfare
Child Mental Health
Services Research
Implementation
Education:
PhD, Columbia University
MSW, Columbia University
Download CV (PDF)
Afkinich, J., Winters, A., Gopalan, G., & Bright, C. (In Press).  Absorptive Capacity in Child Welfare:  measurement Challenges and Item Development. Journal of Public Child Welfare.

Bornheimer, L. A., Acri, M., Gopalan, G., & McKay, M. (In Press). Barriers to service utilization and child mental health treatment attendance among poverty-impacted families. Psychiatric Services.

Gopalan, G., Bornheimer, L.A., Acri, M., Winters, A.*, O'Brien, K., & Chacko, A. (2017). Multiple family group service delivery model for children with disruptive behavior disorders: Impact on caregiver stress and depressive symptoms.  Journal of Emotional and Behavioral Disorders. NIHMSID: 903393

Acri, M. C., Bornheimer, L. A., Jessell, L., Chomanchuzuk, A. H., Adler, J. G., Gopalan, G., & McKay, M. (2017).  The intersection of extreme poverty and familial mental health in the United States. Social Work in Mental Health, 15(6), 677-688.

Stephens, T., Parchment, T., Gopalan, G., Burton, G., Ortiz, A., Brantley, T., Martinez, S., & McKay, M. (2017). Assessing the needs of reunified families from foster care: A parent perspective. Child Welfare, 94(6), 9-37.
Dr. Gopalan's research agenda focuses on (1) identifying needs and challenges of families involved in child welfare and child mental health services which could impact service utilization and effectiveness, (2) developing, implementing, and evaluating interventions designed to promote child mental health and family functioning, and (3) investigating interventions and services integrating peer support.