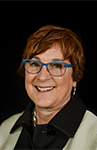 DePanfilis, Diane | MSW | PhD
Professor
Phone: (212) 396-7867
Office: 706
Email: diane.depanfilis@hunter.cuny.edu

Areas of Expertise:
Social Work Intervention Research
Child Maltreatment Prevention
Implementation Science
Child Welfare Policies, Programs, & Practice
Education:
Ph.D., University of Maryland, Baltimore; Social Work
M.S.W., University of Wisconsin - Milwaukee; Social Work
B.A,  Villa Maria College; Sociology, Social Welfare
Courses:
Child Welfare: Foundations of Practice
Intervention Research
Social Work Research I
Social Work Research II
Download CV (PDF)
Rodriguez, M.,
DePanfilis, D
., & Lanier, P. (2019). Bridging the gap: Social Work insights for ethical algorithmic decision-making in human services.
IBM Journal of Research and Development, 63
(4), 8:1-8:8. Doi: 10.1147/JRD.2019.2934047.
Ahn, H.,
DePanfilis, D
., Frick, K. D., & Barth, R. P. (2018). Estimating minimum adequate foster care costs for children in the United States. 
Children & Youth Services Review, 84, 5
5-67
.
doi:10.1016/j.childyouth.2017.10.045
Bartley, L., Bright, C., &
DePanfilis, D
. (2017). Contributors to fidelity of child welfare related interventions: A review. 
Journal of Public Child Welfare.
DOI: 10.1080/15548732.2017.1340222.  Available online at: http://dx.doi.org/10.1080/15548732.2017.1340222
DePanfilis, D.
& Dubowitz, H. (2017).  Promising approaches for preventing neglect. In R. Alexander  (Ed.).
Research and practices in child maltreatment prevention
(161-182). Florissant, MO: STM Learning, Inc.
DePanfilis, D.
 & Herman, D. (2015). Heeding the call: Advances in social work intervention research.
Journal of the Society for Social Work and Research, 6
(4), 459-465. doi: 10.1086/684140.