Course Code:  SSWMP
Instructor:  Dr. Anthony Sainz
Date:  Week April 22-26, 2019
Time:  9:00 AM to 5:00 PM
Room:  Silberman/TBD                                                                               
Cost:  $1225
This course in Mindful Presence allows participants to experience deeper self-awareness of mind, body, and spirit. An embodied Mindfulness Presence enables participants to make a deeper and a more genuine contact with themselves and being more authentically available to their clients. This course provides a safe and supportive environment for self-exploration, change and approaching practice in a new way of being. This is achieved through experiential mindfulness meditation activities. The premise of this course is that Mindful Presence is not a theory, method or technique to be added to social work as part of the practice. Rather, it is the context that inform practice with clients: It is the social worker's way of being with clients in social work practice.
CE Hours: 35
---
About the Instructor: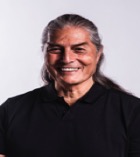 Dr. Sainz, has been exploring and developing courses, workshops and conducting individual and group sessions integrating spirituality and healing approaches and modalities for nearly 30 years. While at the Silberman School of Social Work He Taught Human Behavior and the Social Environment, chaired and taught Research Methods and chaired and taught professional Seminar. While at the Silberman he developed and taught a course on spirituality and Healing. He continues teaching and training a sequence of self-discovery workshops held in several cities in Taiwan and China. His book, Give me back my true colors is a best seller in both Taiwan and China. He currently lives in Urumqi China and continues his work in helping people to live their lives more present and fully through experiential and mindfulness activities.
---
PHONE REGISTRATION: (212) 650-3850
QUESTIONS ABOUT THE COURSE: (212) 396-7610