Facing What Needs to be Changed
Message from the Dean
Dear Colleagues and Students,
I am writing to update you on the actions we have undertaken as we hold ourselves accountable as an institution, and as a community, in creating a learning environment that fully integrates a just practice framework across our curriculum, field experiences, and community partnerships.
In June, we convened two faculty and staff meetings dedicated to this necessary work. These meetings were extraordinarily well-attended. They have been accompanied by formative conversations with students, alumni, and community partners. We move forward with a collective recommitment to the ethical imperatives and social justice mandate of our Social Work profession. We move also with the understanding that our present mobilization for social justice and social change builds upon long histories of anti-racist organizing and advocacy by our students and colleagues at Silberman.
Below are some key next steps as we forge ahead in strengthening a community here at Silberman that confronts pervasive, institutionalized structures and processes that dehumanize communities of color.
Best regards,
Mary M. Cavanaugh
Dean
Education
Resources:
Faculty and staff are developing a catalog of books, essays, films, and other learning resources pertaining to the history, policies, and practices of racism. We welcome student input. Please send suggestions to Erin Bach at eb3246@hunter.cuny.edu. A reading list will soon be distributed to all students. We will foster immersive engagement with this literature through collaborative dialogue groups and a speaker series.
Speaker Series:
Experts will be invited to facilitate conversations with Silberman students, faculty, and staff pertaining to racial justice and equity. We will provide more information shortly. In addition, Hunter College will be holding a series of public programs through Roosevelt House on the historical and political context of racism and efforts to advance racial equity. You will receive information about these programs from President Raab's office.
Identifying and Disrupting Ideologies of Dominance: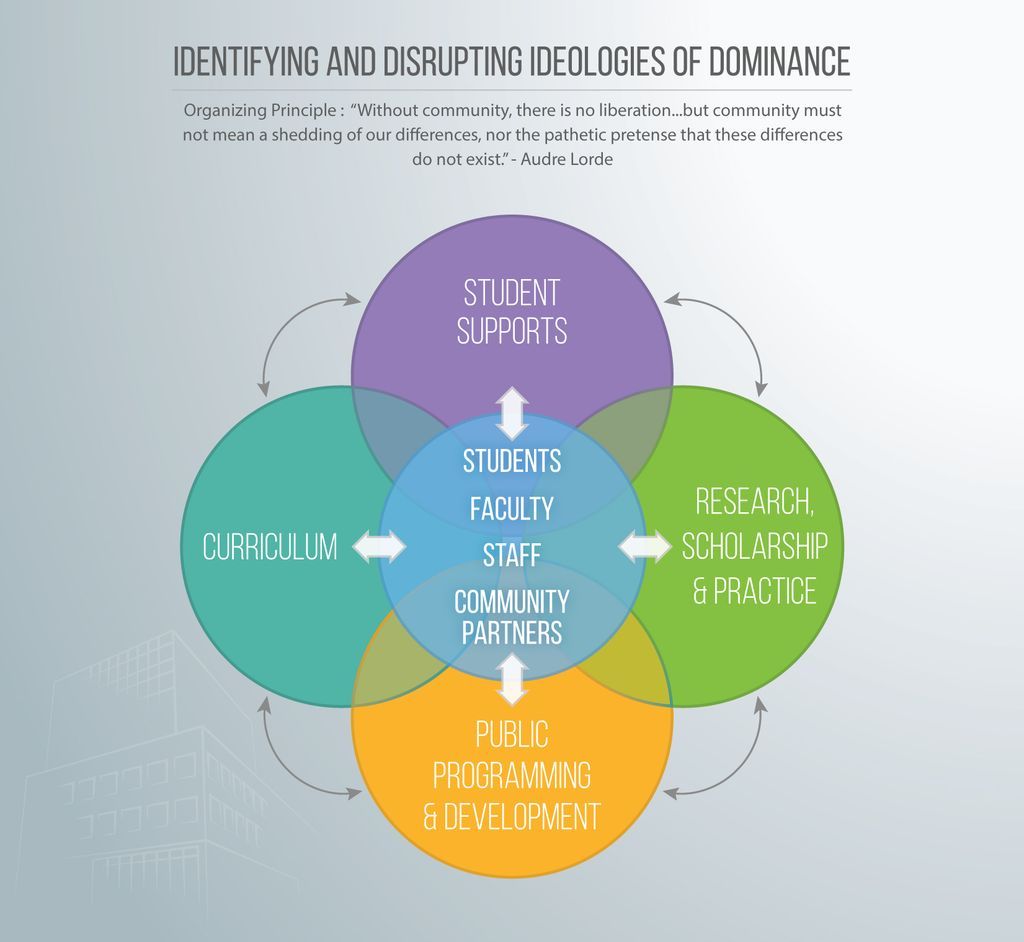 The Silberman Committee for Identifying and Disrupting Ideologies of Dominance (IOD) is committed to developing actions steps to identify and disrupt practices that uphold domination and subjugation of people in our school and practice communities. This initiative invites faculty, staff, students, alumni, and community partners to join in dialogues to explore how the Silberman Community can eradicate the impact of ideologies of dominance in our curriculum, student support efforts, public programming, and research, scholarship, and practice. This work is supported by a steering committee.
Steering Committee
Willie F. Tolliver | MSW | DSW
Colleen Henry | MSW | PHD
Michelle Desir | LCSW
Sandi McCray
Teaching and Learning
Integrating Just Practice and Anti-Racist Pedagogy Across the Curriculum:
In collaboration between faculty, students, staff, and field education partners, we are developing a cohesive plan to integrate an abiding commitment to just practice and racial equity across every area of our curriculum. We intend to ensure that all teaching at the Silberman SSW explicitly recognizes and sustains attention to anti-Black and anti-Brown racism, racial inequity, and the injustices that intersect racial inequities. This will include teaching the historical contexts of racist practices and policies so as to ensure a fuller understanding of systemic racism as it exists today.
Building Faculty and Field Educator Capacity:
Beginning immediately, and continuing throughout the academic year, collaborative steps are being taken to enhance faculty and field educators' capacities to commit fully to the aforementioned teaching plan. These include the dialogue groups described above; ongoing collaborations with students; dedicated conversations among Method, Fields of Practice, Sequence, and other curricular area faculty and chairs; and special trainings and speaker series facilitated by experts in anti-racist pedagogy.
Building Upon the Silberman Field Education Cooperative:
In response to extraordinary student interest in the Silberman Field Education Cooperative and in strengthening our Field Education curriculum around a commitment to just practice, we are building new ways for students to directly shape Field Education. This summer, students who expressed interest in being part of the Cooperative will be invited to share their perspectives and ideas about Field Education pedagogy, along with action areas where they would like to be involved. A communication, with a form for gathering this information, is being sent out this week. Based on this input, the Field Education Cooperative will create working groups comprising students, alumni, and field advisors. Each group will provide topic-specific, concrete, actionable feedback to the main Field Education Cooperative body.
Student Initiatives
Committees:
Social Justice Committee:
Meeting throughout the summer, the Silberman Social Justice Committee is an open committee that brings together stakeholders from across our community – students, faculty, staff, and alumni. This summer, smaller working groups will be formed within the committee, to engage readings/resources and facilitate concrete commitments to institutional and community accountability for social change. All are invited and encouraged to take part. Please contact Professor Willie Tolliver, wtollive@hunter.cuny.edu, or Professor Colleen Henry, colleen.henry@hunter.cuny.edu, for further information.
Meeting Dates:
Monday 10/5 from 6:00 pm – 8:00 pm.
*Additional meetings for the semester will take place on Oct 19, Nov 9, and Nov 30. Please mark your calendars.
Hunter College Initiatives
Student Supports:
Student supports are also available through Hunter College, including the expanded Counseling and Wellness Services resources outlined in President Raab's recent message. Please email personalcounseling@hunter.cuny.edu or call (212) 772-4931.
Hunter College's efforts are only a few cornerstones of an evolving path forward, as we redouble our dedication to just Social Work practice and education. We are committed to demonstrable actions as we forge ahead together as a community to live the mission of our profession as we respect the humanity of all individuals.
Roosevelt House:
Roosevelt House, an integral part of Hunter College since 1943, re-opened in 2010 as a public policy institute honoring the distinguished legacy of Franklin and Eleanor Roosevelt. Its mission is three-fold: to educate students in public policy and human rights, to support faculty research, and to foster creative dialogue. Click here to see upcoming events at Roosevelt House.
Published Resources
| | |
| --- | --- |
| Title | Authors |
| "White Fragility: Why It's So Hard for White People to Talk About Racism" |  Robin DiAngelo and Michael Eric Dyson |
| "The New Jim Crow: Mass Incarceration in the Age of Colorblindness" | Michelle Alexander and Cornel West |
| "Racism a Very Short Introduction" | Ali Rattansi |
| "So You Want to Talk About Race" | Ijeoma Oluo |
| "Tears We Cannot Stop: A Sermon to White America" | Michael Eric Dyson |
| "From #BlackLivesMatter to Black Liberation" | Keeanga-Yamahtta Taylor |
| "Born a Crime: Stories from a South African Childhood" | Trevor Noah |
| "The Color of Water: A Black Man's Tribute to His White Mother" | James McBride |
| "Race Frameworks: A Multidimensional Theory of Racism and Education (Multicultural Education Series)" | Zeus Leonardo |
| "Between Good and Ghetto: African American Girls and Inner-City Violence (Rutgers Series in Childhood Studies)" | Nikki Jones |
|  "Democracy May Not Exist but We'll Sure Miss It When It's Gone" | Astra Taylor |
| "Chokehold" | Paul Butler |
| Invisible No More: Police Violence Against Black Women and Women of Color" | Andrea Ritchie |
| "How to Be an Antiracist" | Ibram X. Kendi |
| "Stamped From the Beginning" | Ibram X. Kendi |
| "Give Them an Argument: Logic for the Left" | Ben Burgis |
| "A Guide for Sustaining Conversations on Racism, Identity, and Our Mutual Humanity" | Steve Burghardt, Kalima Desuze, Linda Lausell Bryant and Mohan Vinjamuri |
| "Black Feminist Thought: Knowledge, Consciousness, and the Politics of Empowerment" | Patricia Hill Collins |
| "ELOQUENT RAGE: A Black Feminist Discovers Her Superpower" | Brittney Cooper |
| "Heavy: An American Memoir" | Kiese Laymon |
| "I Know Why the Caged Bird Sings" | Maya Angelou |
| "Invisible No More" | Andrea J. Ritchie |
| "Just Mercy" | Bryan Stevenson |
| "Me and White Supremacy" | Layla F. Saad |
| "Raising Our Hands: How White Women Can Stop Avoiding Hard Conversations, Start Accepting Responsibility, and Find Our Place on the New Frontlines" | Jenna Arnold |
| "Sister Outsider: Essays and Speeches (Crossing Press Feminist Series)" | Audre Lorde |
| "The Bluest Eye" | Toni Morrison |
| "The Fire Next Time" |  James Baldwin |
| "The Next American Revolution: Sustainable Activism for the Twenty-First Century" | Grace Lee Boggs |
| "The Warmth of Other Suns: The Epic Story of America's Great Migration" | Isabel Wilkerson |
| "Their Eyes Were Watching God" | Zora Neale Hurston |
| "When Affirmative Action was White: An Untold History of Racial Inequality in Twentieth-century America" | Ira Katznelson |
| "The Philosphy of Race" | Naomi Zack |
| "Black Skins/ White Masks" | Franz Fanon |
| "The Inner Work of Racial Justice" | Rhonda Magee |
| "The Lies that Bind: Rethinking  Identity Creed, Country, Color, Class, Culture"- Sections:  Classification chapter, Color chapter, subsections: Localizing Race; Color Inside the Lines | Kwame Anthony Appiah |
Title
Authors
Source
Racism and Ethnoviolence as Trauma: Enhancing Professional and Research Training
Janet E. Helms, Guerda Nicolas,  Everett Everett Green
Traumatology  10 March 2011
The Color of Supremacy: Beyond the discourse of 'white privilage'
Zeus Leonardo
Educational Philosophy and Theory
Volume 36, 2004 – Issue 2
How Do Diversity Trainers and Consultants Embody Antiracism? Constructions of Antiracism in the United Kingdom
Sofia Hamaz
International Journal of Sociology
Volume 38, 2008 – Issue 2
Building the anti-racist university: next steps
Shirley Anne Tate & Paul Bagguley
Journal
Race Ethnicity and Education
Volume 20, 2017 – Issue 3
White Professors Teaching About Racism: Challenges and Rewards
Laura Smith, Susan Kashubeck-West, Gregory Payton and Eve Adams
Sage Journals Volume: 45 issue: 5, page(s): 651-668
Effectiveness of Role Playing and Antiracist Teaching in Reducing Student Prejudice
Josette McGregor
The Journal of Educational ResearchVol. 86, No. 4 (Mar. – Apr., 1993), pp. 215-226
Antiracist Education in Theory and Practice: A Critical Assessment
Jack Niemonen
The American Sociologist
Vol. 38, No. 2 (Jun., 2007), pp. 159-177
Different Perceptions of Race in Education: Racial Minority and White Teachers
Paul R. Carr and Thomas R. Klassen
Canadian Journal of Education, v22 n1 p67-81 1997
Algorithmic bias detection and mitigation: Best practices and policies to reduce consumer harms
Nicol Turner Lee, Paul Resnick, and Genie Barton
Tech Algorithm Briefing: How Algorithms Perpetuate Racial Bias and Inequality
Robyn Caplan, Joan Donovan, Lauren Hanson, Jeanna Matthews
WHITE PRIVILEGE AND MALE PRIVILEGE: A PERSONAL ACCOUNT OF COMING TO SEE CORRESPONDENCES THROUGH WORK IN WOMEN'S STUDIES
Peggy McIntosh
Working Paper 189, Wellesley Centers for Women, Wellesley, MA
The Coronavirus Was an Emergency Until Trump Found Out Who Was Dying
Adam Serwer
The Atlantic
My Life as an Undocumented Immigrant
 Jose Antonio Vargas
The New York Times
The 1619 Project (all the articles)
The New York Times Magazine
The Intersectionality Wars
Jane Coaston
Answering White People's Most Commonly Asked Questions about the Black Lives Matter Movement
Courtney Martin
When Does Race Matter? Examining Antiracist Organizational Change
Mimi Abramovitz and Lisa Blitz
Oxford University Press. Chapter 5,  pp. 67-88
Moving Toward Racial Equity: The Undoing Racism Workshop
and Organizational Change
Mimi Abramovitz and Lisa Blitz
Journal of Race and Social Problem (2): 97-110
Black Sexual Politics: African Americans, Gender, and the New Racism
Patricia Hill Collins
The New England Journal of Medicine
Working Toward Whiteness: Hor America's Immigrants Became White
David R. Roediger
Slavery by Another Name: The Re-enslavement of Black Americans from the Civil War to World War II
Douglas A, Backmon
When Affirmative Actiosn Was White: An Untold History of Racial Inequality in Twentieth-Century America
Ira Katznelson
Gender & Jim Crow: Women and the Politics of White Supremacy in North Caroline 1896-1920
Glenda Elizabeth Gilmore
Racism without Racists: Color-Blind Racism and the Persistence of Racial Inequality in America
Eduardo Bonilla-Dilva
The First Black Slave Society: Britain's "Barbarity Time" in Barbados, 1636-1876
Hilary McD. Beckles
Democracy Abroad, Lynching at Home: Racial Violence iin Florida
Tameka Bradley Hobbs
Creating Black Americans
Nell Irvin Painter
The History of White People
Nell Irvin Painter
I've Known Rivers: Lives of Loss and Liberation
Sara Lawrence-Lightfoot
Balm in Gilead: Journey of a Healer
Sara Lawrence-Lightfoot
Body and Soul: The Black Panther Party and the Fight Against Medical Discrimination
Alondra Nelson
High Price: A Neuroscientist's Journey of Self-Discovery That Challenges Everything You Know About Drugs and Society
Dr. Carl Hart
Lose Your Mother: A Journey Along the Atlantic Slave Route
Saidiya Hartman
There is a River: The Black Struggle For Freedom In America
Vincent Harding
Global Perspectives on the Trauma of Hate-Based
Ghafoori, B., Caspi, Y., Salgado, C., Allwood, M., Kreither, J., Tejada, J.L., Hunt, T., Waelde, L.C., Slobodin, O., Failey, M., Gilberg, P., Larrondo, P., Ramos, N., von Haumeder, A., & Nadal, K. (2019).
What is Owed
Nikole-Hannah-Jones
NY Times
Continuous Traumatic Stress." Understanding and intervening in contexts of ongoing danger, violence, and threat
Opotow, S., & Luke, T.J
Peace and Conflict: Journal of Peace Psychology, 19(2), 73-74.(2013)
Black Lives Matter: a short reader on police, protests, racism, and riots
edited by CUNY Struggle, a collective of students and teachers
Diversity, Equity, and Inclusion That Matter
Vanessa Grubbs, M.D.
The New England Journal of Medicine
The Other Side of Underrepresentation in Academia
Anique Forrester, M.D.
The New England Journal of Medicine
Toward Antiracist Allyship in Medicine
Michael O. Mensah, M.D., M.P.H.
The New England Journal of Medicine
Racial Liberalism: Connecting Protest and Electoral Politics Today
Sanford Scram and Richard Fording
Political Science Now
Title
Whose Streets? (documentary)
American Son (Kenny Leon)
Black Power Mixtape: 1967-1975
Blindspotting (Carlos López Estrada)
Clemency (Chinonye Chukwu)
Dear White People (Justin Simien)
Fruitvale Station (Ryan Coogler)
I Am Not Your Negro (James Baldwin doc)
If Beale Street Could Talk (Barry Jenkins)
Just Mercy (Destin Daniel Cretton)
King In The Wilderness
See You Yesterday (Stefon Bristol)
Selma (Ava DuVernay)
The Black Panthers: Vanguard of the Revolution
The Hate U Give (George Tillman Jr.)
When They See Us (Ava DuVernay)
13th (Ava DuVernay)
Black Psychoanalysts Speak- now freely available on YouTube
The Murder of Fred Hampton
Dr. Ibram X. Kendi: Creating A More Equitable Society Is In White Americans' Self Interest
Title
An Uncomfortable (But Meaningful) Conversation About Race | Lama Rod Owens On Ten Percent Happier with Dan Harris
Dr. Ibram X. Kendi: Creating A More Equitable Society Is In White Americans' Self Interest
External Resources
Black Youth Project
Is a member-based organization of Black youth activists creating justice and freedom for all Black people. BYP100 was, at one point, just a hashtag for the 2013 "Beyond November Movement Convening" developed through the vision and leadership of Cathy Cohen.
Equal Justice Initiative
The Equal Justice Initiative is committed to ending mass incarceration and excessive punishment in the United States, to challenging racial and economic injustice, and to protecting basic human rights for the most vulnerable people in American society.
The Audre Lorde Project
The Audre Lorde Project is a Lesbian, Gay, Bisexual, Two Spirit, Trans and Gender Non Conforming People of Color center for community organizing, focusing on the New York City area. Through mobilization, education and capacity-building, we work for community wellness and progressive social and economic justice. Committed to struggling across differences, we seek to responsibly reflect, represent and serve our various communities.
Immigrant Justice Corps
The first and only fellowship of its kind, Immigrant Justice Corps (IJC) identifies promising lawyers and advocates passionate about immigration, places them with legal services and community-based organizations where they can make the greatest difference and supports them with training and expert insights as they directly assist immigrants in need.
The Red Nation
The Red Nation is dedicated to the liberation of Native peoples from capitalism and colonialism. We center Native political agendas and struggles through direct action, advocacy, mobilization, and education.
Indigenous Environmental Network
IEN was formed by grassroots Indigenous peoples and individuals to address environmental and economic justice issues (EJ). IEN's activities include building the capacity of Indigenous communities and tribal governments to develop mechanisms to protect our sacred sites, land, water, air, natural resources, health of both our people and all living things, and to build economically sustainable communities.
Disability Justice – Project Lets
Project LETS is a national grassroots organization and movement led by and for folks with lived experience of mental illness/madness, Disability, trauma, & neurodivergence. We specialize in building just, responsive, and transformative peer support collectives and community mental health care structures that do not depend on state-sanctioned systems that trap our folks in the medical/prison-industrial complex. We work for and with multiply marginalized folks in our communities to provide access, political education, & material resources that are needed to survive and thrive. We believe in a world without systems of oppression, where non-carceral responses to crises are the norm!
Jews for Racial & Economic Justice
For almost 30 years, Jews For Racial & Economic Justice (JFREJ) has pursued racial and economic justice in New York City by advancing systemic changes that result in concrete improvements in people's everyday lives. We are inspired by Jewish tradition to fight for a sustainable world with an equitable distribution of economic and cultural resources and political power. The movement to dismantle racism and economic exploitation will be led by those most directly targeted by oppression. We believe that Jews have a vital role to play in this movement. The future we hope for depends on Jews forging deep and lasting ties with our partners in struggle.
1Love Movement
In the fall of 2010, 1Love Movement formed in response to a deportation crisis that targeted Cambodian-Americans with past criminal convictions in Philadelphia, PA. What began as a campaign to release loved ones from the prison and deportation systems, grew into a grassroots movement building organization. 1Love Movement continues to organize to address the root causes of migration due to US militarism and foreign policy, conditions of poverty, intergenerational trauma, the school to prison pipeline, and unjust deportation policy. We have made grassroots impact on national policy reform, while leading grounded strategies that have won local criminal justice and immigration policy change.
DRUM – South Asian Organizing Center
In the fall of 2010, 1Love Movement formed in response to a deportation crisis that targeted Cambodian-Americans with past criminal convictions in Philadelphia, PA. What began as a campaign to release loved ones from the prison and deportation systems, grew into a grassroots movement building organization. 1Love Movement continues to organize to address the root causes of migration due to US militarism and foreign policy, conditions of poverty, intergenerational trauma, the school to prison pipeline, and unjust deportation policy. We have made grassroots impact on national policy reform, while leading grounded strategies that have won local criminal justice and immigration policy change.
Khmer Girls in Action
Khmer Girls in Action began in 1997 as HOPE for Girls, a Cambodian young women's reproductive health and empowerment project. During their involvement, members came to recognize that their needs extended beyond reproductive health education. Through conversation and strategic planning by members and adult allies, Khmer Girls in Action was created to empower young Southeast Asian women to become relevant social justice organizers who can respond to the immediate needs of their communities.
Mekong NYC
Mekong NYC aims to improve the quality of life of the Southeast Asian community in the Bronx and throughout New York City by achieving equity through community organizing and healing, promoting arts, culture, and language, and creating a safety net by improving access to essential social services. The Southeast Asian community in the Bronx primarily consists of Cambodian Americans and Vietnamese Americans.
Showing Up for Racial Justice
SURJ's role as part of a multi-racial movement is to undermine white support for white supremacy and to help build a racially just society. That work cannot be done in isolation from or disconnected from the powerful leadership of communities of color. It is one part of a multi-racial, cross-class movement centering people of color leadership. Therefore, SURJ believes in resourcing organizing led by people of color, and maintaining strong accountability relationships with organizers and communities of color as central part of our theory of change.