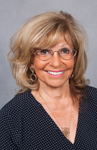 Mizrahi, Terry | MSW | PhD
Professor; Chair, Community Organizing, Planning and Development
Phone: (212) 396-7531
Office: 428
Email: tmizrahi@hunter.cuny.edu

Areas of Expertise:
Interdisciplinary Collaboration and Coalition Building
Community Organizing
Social Work and Health Care Policy
Social Work and Activism
Gender and Feminist Organizing
Physician Socialization and Career Development
Education:
Ph.D., University of Virginia
M.S., Columbia Unviersity School of Social Work
Courses:
Community Organization
Download CV (PDF)
Mizrahi, T., Rosenthal, B. & Ivery, J. (2012). Coalitions, Collaborations, and Partnerships: Interorganizational models of social change.
The Handbook of Community Practice – 2nd Edition
.
Bronstein, L., Mizrahi, T., Korazim, Y., & McPhee (2010).
Interdisciplinary collaboration in social work education in the USA, Israel and Canada
, International Social Work, 53(4), 457-473.
Garcia, M.E., Mizrahi, T. & Bayne-Smith (2010).
Education for Interdisciplinary Community Collaboration and Development: The Components of a Core Curriculum by Community Practitioners

The Journal of the Community Development Society, 39 (3).
Lopez-Humphries, M., Mizrahi, T., & Torres, D. (2009).
The Social Construction of Client Participation in Child Welfare and Mental Disabilities
. Journal of Sociology and Social Welfare, 36 (2).
The Impact of Professional Background on Interdisciplinary Community Collaboration.
A funded multi-methodology research project examining how six professions experience and perceive problem-solving in mono and multi-disciplinary settings. While professional determinants of ICC are dominant, organizational and interpersonal factors also influence the ways they collaborate and their views of the collaborative experience with Dr. Marcia Bayne-Smith, Queens College- Co-PI, and Martha Garcia, CUNY Law School.

The Career Tracks of Physicians from Residency to Retirement.
A 35 Year indepth qualitative longitudinal study of physicians trained in internal medicine examining the impact of the social, economic and professional changes in medicine on their career paths and satisfaction over time. The 20 physicians interviewed in five timeframes from 1980-2012 present the satisfactions and strains they have experienced with patients, peers and policy-makers.

A Comparison of Male and Female Organizers in the US and Israel: A Cross-Country Perspective on the role of Gender and other Characteristics on Organizing Practice.
An in-depth examination of their styles, philosophy, strengths and struggles in the context of conservative political, social and economic conditions. Of particular interest is the way both the men and women view feminist and a feminist organizing style.

Study of Silberman School of Social Work Students from 2000- 2009
The impact of a travel study course on two cohort of Silberman SSW students with Israeli students on their views of social work, social activism and themselves professionally and personally.