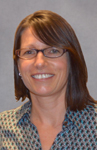 Giunta, Nancy | MSW | PhD
Associate Professor
Phone: (212) 396-7552
Office: 453
Email: nancy.giunta@hunter.cuny.edu

Areas of Expertise:
-Aging/Gerontology: Health & long-term care policy; home and community-based services;
aging-friendly communities; caregiver support
-Macro social work practice: Inter-agency collaboration; community organizing; community-based participatory research
Education:
Ph.D., University of California, Berkeley
M.S.W., University of California, Berkeley
M.A., San Francisco State University
Courses:
Community Organizing
Aging Policy
Social Work Practice Lab
Social Work Research Methods
Download CV (PDF)
Giunta, N. & Rowan, N. (2015) Lesbian, Gay, Bisexual, and Transgender Aging: The Role of Gerontological Social Work. London/New York: Routledge. [originally published as a special issue of the Journal of Gerontological Social Work]

Vakalahi, H.O., Simpson, G., & Giunta, N. (2014) The Collective Spirit of Aging Across Cultures. New York: Springer Science & Business Media.

Giunta, N. and Cain, K. (2015) Case management collaboration: Evaluating a consortium model of service delivery for urban elders. Journal of Case Management, 16(1), 20-29. DOI: 10.1891/1521-0987.16.1.20.

Giunta, N. and Thomas, M.L. (2013). Integrating Assessment and Evaluation into Partnership Initiatives: Lessons from the Community Partnerships for Older Adults. Journal of Applied Gerontology. Advanced online access DOI: 10.1177/0733464813487587

Giunta, N., Morano, C., Parikh, N.S., Friedman, D., Fahs, M.C., and Gallo, W.T. (2012). Racial and ethnic diversity in senior centers: Comparing participant characteristics in more and less multicultural settings. Journal of Gerontological Social Work, 55(6), 1-17.
Case Management Collaboration: A Pilot Study of a Consortium Model of Service Delivery in New York City
Description: A two-year study examining the delivery of case management services for homebound elders through a collaborative model.
Sponsor:
John A. Hartford Foundation Geriatric Social Work Faculty Scholars Program
Evaluation of the National Resource Center on LGBT Aging
Description: Services & Advocacy for GLBT Elders (SAGE)—in partnership with 10 leading organizations from around the country—received a three-year grant from the U.S. Administration on Aging to establish the National Resource Center on LGBT Aging. The resource center seeks to improve the quality of services and supports offered to LGBT older adults nationwide. Hunter College serves as the evaluation partner for the National Resource Center.
Sponsor:
National Resource Center on LGBT Aging