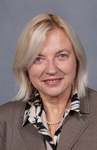 Earner, Ilze | LCSW | PhD (On Leave)
Associate Professor
Phone: (212) 396-7565
Office: 705
Email: iearner@hunter.cuny.edu

Areas of Expertise:
Child Welfare
Immigrant and Refugee Populations
Education:
PhD, Columbia University
MSW, California State University-Fresno
Courses:
Human Behavior I, II and III,
Casework I and II,
Social Policy I, and II: Immigrants and Refugees
Professional Seminar
Download CV (PDF)
Fong, R. and Earner, I. (in press) Multiple traumas of undocumented immigrants: Crisis
re-enactment play therapy: The case of Julia. In Nancy Boyd Webb (Ed), Play therapy with children in crisis, fourth edition. New York: The Guilford Press.

Earner, I. and Detlaff, A. (2015). Social work with Latinos. In R. Fong (Ed), Social Worker's Desk Reference, third edition. New York: Oxford University Press.

Earner, I. and Kriz, K. (2015) Child welfare and immigrant families in the United States. In M. Skivenes, R. Barns, T. Poso and K. Kriz (Editors), Child Welfare and Immigrant Families in Ten Countries. London: Oxford University Press.

Earner, I., Fong, R. and Smolenski, C. (2014). Migrating children and child welfare services in the U.S. In G.Mallon and P. Hess (Editors), Handbook of Child Welfare, second edition. New York: Columbia University Press.

Detlaff, A. and Earner, I. (2012). Children of immigrants in the child welfare system: Characteristics, risk and maltreatment. Families in Society 93(4), 295- 303.
Immigrant Families in the Child Welfare System
Cross-national ten country survey-based study of immigrant families involved with child welfare services that will examine how child welfare workers assess risks when practicing with immigrant families, what interventions and services they provide to these families and whether immigration status makes a difference in practice. The survey will also seek to assess what knowledge base and training child welfare workers utilize when working with immigrant families. The study is based at the University of Bergen in Norway.

Make the Road By Walking - Social Workers and Social Entrepreneurship
Social work jobs in agency-based settings are evaporating steadily in the current climate of budget cuts and shrinking dollars for services to meet human needs; yet people with needs are not decreasing and many communities desperately need an advocate. How can social workers create new opportunities to meet the challenge of providing services in community-based settings? What skills should we be teaching social work students so that they can learn to meet the needs of individuals and communities in this new context? How can field and classroom experiences integrate social work practice with social entrepreneurship skills?