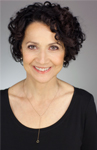 Bragin, Martha | LCSW | PhD
Associate Professor
Phone: (347) 204-1242
Office: 427
Email: mbragin@hunter.cuny.edu

Areas of Expertise:
Psychosocial interventions that support resilience in communities affected by conflict, disaster and adversity
Building locality based social work capacity in countries in crisis
Participatory research methods
Developmentally and culturally informed interventions
Education:
Ph.D., New York University
M.S.W., Hunter College School of Social Work
Courses:
Human Behavior in the Social Environment
Ways of Knowing
Advanced Clinical Practice
Download CV (PDF)
Bragin, M., Taaka, J., Adolphs, K. & Gray, H., & Eibs, T. (2014). Measuring hard-to-measure concepts in clinical social work: Operationalizing psychosocial well-being in post-conflict Uganda.
Clinical Social Work Journal.

Bragin, M., Onta, K, Taaka, J., Ntacobakinvuna, D., & Eibs, T. (2014). To be well at heart: Women's perceptions of psychosocial well-being in 3 conflict-affected countries – Burundi, Nepal, and Uganda.
Intervention: International Journal of Mental Health, Psychosocial Work and Counselling in Areas of Armed Conflict
12 (2), 171 – 186.
Bragin, M., Tosone, C., Ihrig, E., Mollere, V., Niazi, A., & Mayel, E. (2014). Building culturally relevant social work in the midst of armed conflict: Applying the DACUM method in Afghanistan.
International Social Work,
doi: 10.1177/0020872814527631.
Bragin, M. (Editor). (2012). Children in armed conflict: Views from the global south [Special issue].
International Journal of Applied Psychoanalytic Studies
, Volume 9, Issues 2-3.
Bragin, M. (2012). 
So That Our Dreams Will Not Escape Us: Learning to Think Together in Time of War
.
Psychoanalytic Inquiry: A Topical Journal for Mental Health Professionals, 32(2), 115–135.


Principal Investigator, Claiming Rights - Promoting Peace: Women's empowerment in conflict affected areas (Uganda, Burundi and Nepal).Understanding women's psychosocial wellbeing in cultural context.


Principal Investigator (with Michael Lewis), Development of a classroom based instrument
to measure the effectiveness of psychosocial interventions designed to improve an aspect of cognitive functioning amongst adolescents affected by war and community violence.