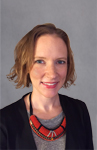 Bloeser, Katharine | MSW | PhD
Assistant Professor
Phone: (212) 396-7534
Office: 431
Email: kb1568@hunter.cuny.edu

Areas of Expertise:
Veterans
Trauma
Education:
PhD, New York University
MSW, The Catholic University of America
Courses:
Clinical Practice III
Download CV (PDF)
Bloeser, K., McCarron, K.K., Batorsky, B., Reinhard, M.J., Pollack, S.J., & Amdur, R. (2014). Mental health outreach and screening among returning Veterans: Are we asking the right questions? The United States Army Medical Department Journal, Oct.-Dec., 109, 117.

Reinhard, M.J., Nassif T.H., Bloeser, K., Barth, S., Benetato, B., Dursa, E., & Schneiderman, A. (2014). CAM utilization among OEF/OIF Veterans: Findings from the National Health Study for a New Generation of US Veterans. Medical Care, 52, (S45-S49).

McCarron, K.K., Reinhard, M.J., Bloeser, K.J., Mahan, C.M., & Kang, H.K. (2014). PTSD diagnoses among Iraq and Afghanistan Veterans: Comparison of administrative data to chart review. Journal of Traumatic Stress Studies, 27(5), 626-629.

Reinhard, M.J. & Bloeser, K. (2014). Enhanced methods to assess suicide risk among respondents to a national survey of US Veterans. Psychiatric Services, 65(9), 1179.

Prisco, M.K., Jecmen, M.C., Bloeser, K.J., Akhter, J., Duncan, A., McCarron, K., & Reinhard, M. (2013). Group auricular acupuncture for PTSD-related insomnia in Veterans: A randomized trial. Medical Acupuncture Journal, 25(6): 407-422.
The Military Experiences of Lesbian, Gay, Bisexual, and Transgender Veterans.
A mixed-methods study examining minority stress, military experiences, and health care needs of Veterans who identify as LGBT. What experiences of violence, discrimination, and harassment did Veterans who identify as LGBT face in the military? What post-deployment health concerns might these Veterans have? What experiences do Veterans have in health care settings related to their sexual orientation and/or gender identity? How does resilience play a role in this population's health?