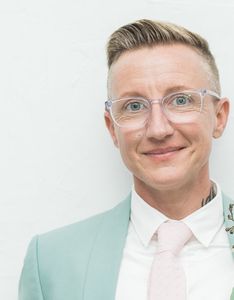 Jama Shelton, Assistant Professor at the Silberman School of Social Work at Hunter College, has been recognized as an emerging LGBTQ leader in New York by the widely respected media organization City & State.
Professor Shelton is one of 10 individuals on this year's Pride "Watch List" – part of City & State's annual recognition of "the most influential LGBTQ leaders in government relations, business, culture and social services." Along with their fellow leaders-to-watch, Professor Shelton has "garnered attention for excelling while taking on growing responsibility … on a path to become more influential in coming years." Professor Shelton will be profiled in a special commemorative magazine released on June 11, alongside the others on this list and the 50 established figures on the 2018 Pride "Power List", and honored at a reception that same day.
The entire Silberman School of Social Work community commends Professor Shelton on this extraordinary and well-deserved recognition.