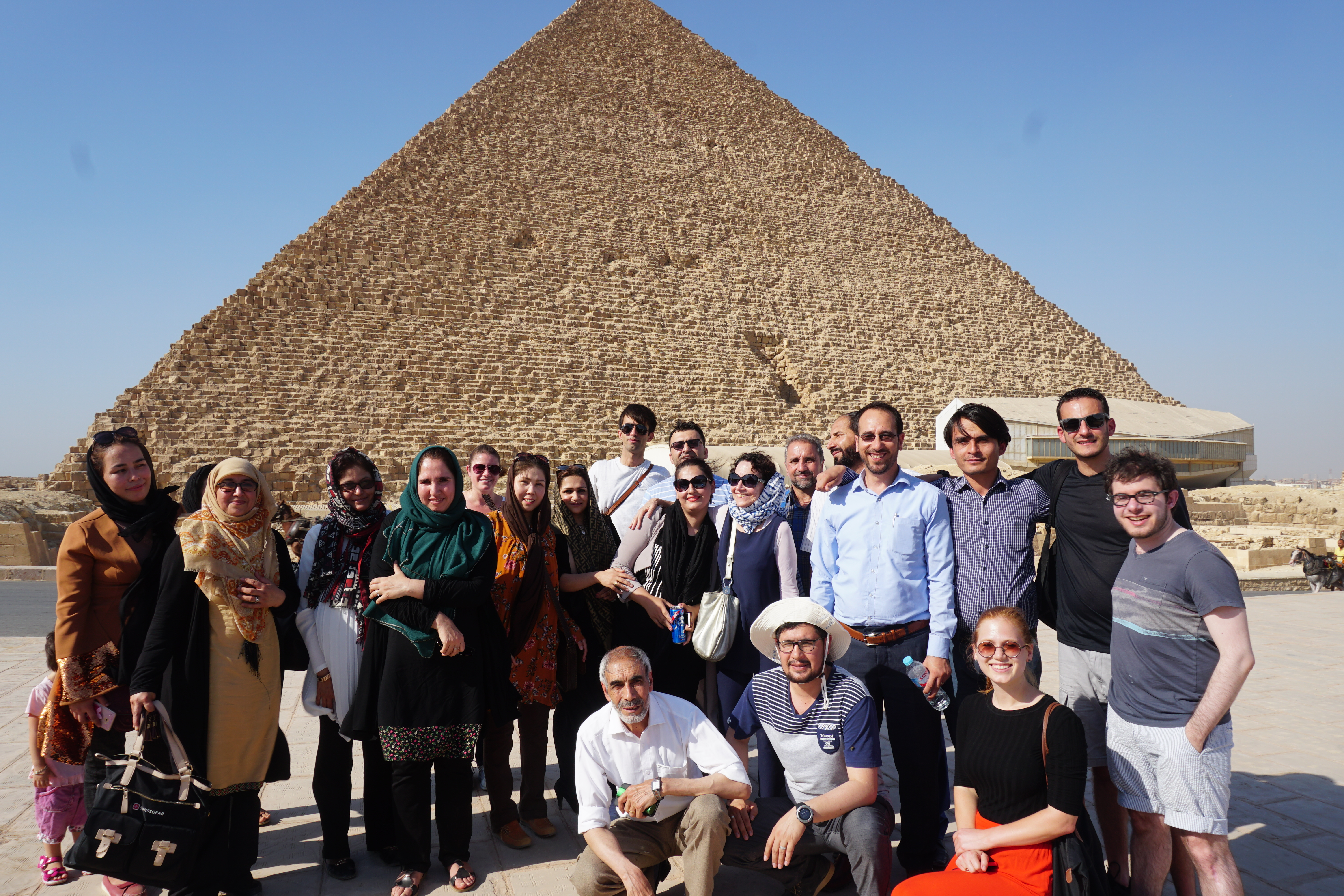 Faculty from the Silberman School of Social Work at Hunter College and two of Afghanistan's leading universities, Kabul University and Herat University, came together in Cairo, Egypt last month for the third "Study Tour" of the Hunter College/Kabul University/Herat University Counseling Degree Partnership – a one-of-a-kind global partnership in social work education.
Active since 2016, this collaboration is led by principal investigator Martha Bragin, Associate Professor at the Silberman School of Social Work and Chair of the School's Global Social Work and Practice with Immigrants and Refugees (GSWPIR) field of practice. It is supported by FHI-360 and the United States Agency for International Development (USAID) as part of the University Support and Workforce Development Partnership (USWDP) initiative in Afghanistan. Combining Hunter's resources and experience delivering the highest caliber of social work education across its 60-year history, with the unique human service needs and expertise of its Afghan partners, the Counseling Degree Partnership is developing rigorous academic programs in psychological counseling at both Kabul and Herat Universities. These programs will educate and train Afghan students to become professional psychological counselors reflecting, supporting, and transforming the lives of their fellow Afghans.
Throughout the life of this partnership, formal conferences called Study Tours have been vital opportunities for partner institutions to meet and mutually build knowledge and resources. Held in Cairo from August 15-21, the last Study Tour spurred extraordinary learning and productivity that bridged cultural contexts, languages, and topics.
Eleven faculty members and deans from Kabul and Herat Universities collaborated with Professor Bragin, co-PI Bree Akesson of Canada's Wilfrid Laurier University, Hunter/Silberman staff specialists, Dari-English translators, and consultants to ensure the strength of their counseling degree programs. Professor Gerald Mallon, Associate Dean for Scholarship and Research at the Silberman School of Social Work, facilitated workshops on key issues including research and scholarship; program policies; recruiting and retaining excellent students; and effectively managing program personnel. Dean Mallon was assisted by Jacob Gutter and Matthew Goldman, Silberman's dedicated communications designer and writer, who worked with the Afghan faculty to develop international-grade digital resources and policy documents. By the end of the Study Tour, materials were in place to support both universities' new programs in perpetuity.
The Counseling Degree Partnership, particularly the recent Study Tour, is a testament to the global reach of Hunter College and the Silberman
School of Social Work. This collaboration exemplifies how Hunter's commitment to social work excellence in service to the public crosses borders and supports communities far and wide.