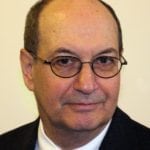 The Silberman School of Social Work at Hunter College warmly congratulates alumnus Dr. Robert (Bob) Schachter for receiving the Network for Social Work Management's Chauncey Alexander Lifetime Achievement Award.
Established in 1989 in honor of esteemed social work leader Chauncey Alexander, this award recognizes "the entire career of exceptional social work managers that reflect [Alexander's] passion and commitment to the social work profession."
Dr. Schachter, who earned his MSW and DSW from the Hunter College School of Social Work (the latter in concert with the CUNY Graduate Center), is a highly accomplished leader in the Social Work profession in New York City and nationally. Across his career of more than 40 years and counting, he has demonstrated a deep dedication both to effective organizational and professional development and to fighting systemic social injustice – exemplifying not only Chauncey Alexander's model but also the foundation of Social Work itself.
Dr. Schachter served for 27 years as the Executive Director of the National Association of Social Workers New York City Chapter (NASW-NYC), one of the largest NASW chapters in the country, until his retirement in 2017. Among the many initiatives he undertook in this position, Dr. Schachter worked to develop and sustain the chapter's commitment to racial equity and social justice. He co-founded and co-chaired the Latino Social Work Task Force, which has expanded support and opportunities for multicultural, multilingual social work students including raising over a half million dollars for Latino student scholarships; served as founding chair of the NYC Human Services Council's Racial Equity Work Group; encouraged all NASW-NYC staff, board members, committee members, and more than 100 social service agency CEOs to attend Undoing Racism Workshops; and established a pathbreaking social work labor alliance.
Dr. Schachter was also instrumental to an overall expansion of professional opportunities and standards of excellence in Social Work. He developed some of the first, strongest, and most enduring partnerships between New York City's social service professionals and its citywide agencies both public and private, including the NYC Department of Health and Mental Hygiene; the NYC Department for the Aging; and the New York Academy of Medicine. These significantly enhanced the role of social workers in community-engaged mental health care and advocacy across the metropolitan area. Dr. Schachter additionally led a major effort to achieve full licensure for social workers in New York State, and he was the architect behind mandatory continuing education for licensure renewal at a time when New York was the only state in the country to lack this professional development provision.
In recognizing Dr. Schachter with the Chauncey Alexander Lifetime Achievement Award, the Network for Social Work Management applauds his "rare and historic leadership," ability to "think and act inside and outside of the box to bring about change," and "extraordinary legacy from which others can learn and build."
The entire Silberman School of Social Work and Hunter College community offers our congratulations to Dr. Schachter for this well-deserved honor reflecting his extraordinary contributions to the communities of New York and the profession of Social Work.