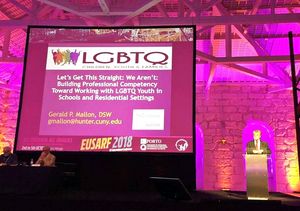 Earlier this month in Porto, Portugal, Associate Dean Dr. Gary Mallon delivered a keynote address at the fifteenth annual international conference of the European Scientific Association on Residential and Family Care for Children and Adolescents (EUSARF). Speaking to 700 participants from 45 countries, Dr. Mallon's talk was titled, "Let's Get this Straight – We aren't: Building Professional Competency Toward Working with LGBTQ Youth in Schools and Residential Settings."
Dr. Mallon is the Associate Dean for Scholarship and Research and Julia Lathrop Professor of Child Welfare at the Silberman School of Social Work at Hunter College. He is an internationally recognized expert on LGBTQ youth and family issues, who has championed a commitment to permanency and opportunity for the most vulnerable children and families for more than 40 years. In 1997, he established the National Resource Center for Permanency and Family Connections, based at the School of Social Work, which remains under his leadership as the National Center for Child Welfare Excellence (NCCWE).
Underscored by his keynote address and contributions to the EUSARF conference, Dr. Mallon's scholarship, practice, and advocacy have influenced policies relating to LGBTQ families and child welfare across the United States and the globe.