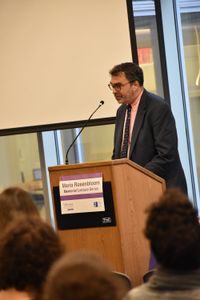 On Wednesday evening, April 25, the Silberman School of Social Work at Hunter College held our sixth annual Maria Rosenbloom Memorial Lecture: Lessons from the Holocaust for the 21st Century Refugee Crisis. The Rosenbloom Memorial Lecture Series honors the legacy of our former colleague Professor Maria Rosenbloom, an inestimable and fierce advocate for social justice who was committed to educating about the Holocaust as well as the experiences of refugees around the world.
This year's keynote speaker was Mark Hetfield, President and CEO of HIAS, the world's oldest organization dedicated to refugees. He was joined by three social work leaders, each a child of Holocaust survivors. Together, they forged an important dialogue on how to understand and assist today's global refugees in light of lessons like those Professor Rosenbloom so powerfully taught here at Hunter. This special evening was well-attended, including a great many Silberman community members who came together to share in the conversation.
We are very grateful to all who made the 2018 Rosenbloom Lecture such a success. A special thank you goes to Professor Harriet Goodman for her work organizing the lecture, and the entire advisory committee for their vision and dedication: Martha Bragin, Daniel Gardner, Caroline Gelman, Alex Gitterman, Patricia Gray, Paul Kurzman, Gary Mallon, Terry Mizrahi, Gloria Rich, and Ana Paulino. The School community is particularly grateful to Dr. Alex Gitterman, whose remarkable support in memory of his aunt, Maria Rosenbloom, makes this annual event possible. Finally, appreciation goes to Matthew Goldman, Jacob Gutter, and the School's Facilities and A/V teams.
The Silberman School of Social Work is proud to honor and uphold Professor Rosenbloom's legacy through the Rosenbloom Memorial Lecture Series. Please stay tuned for updates about next year's program.